The experience that Temo Pese has accumulated in the field of industrial weighing in over 120 years of history it is already, in itself, synonymous with reliability and the constant growth of which the company has been a protagonist testifies to the trust that our customers have placed in us and in our products.
But this, however flattering, is not enough and that is why Temo Pese guarantees all its products, from industrial weighs to the bench scale, with the ISO 9001 COMPANY QUALITY SYSTEM and the CE mark.
Let's see what it is.
ISO 9001
ISO 9001 Quality management systems - Requirements belongs to a series of regulations created byInternational Organization for Standardization (ISO), a body founded in 1947, with the aim of defining technical standards for different sectors (not only industrial weighing), and which includes 164 countries around the world.
In the specific case, the ISO 9001 standard establishes rules and guidelines to "plan, implement, monitor and improve both operational and support processes, designing and implementing the quality management system as a means to achieve the objectives" and is based on 8 fundamental principles:
-customer orientation;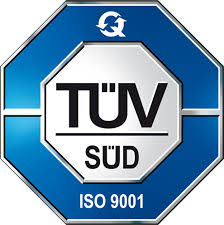 -leadership;
- involvement of staff;
- process approach;
- systematic approach to management;
-continuous improvement;
- decisions based on factual data;
- mutually beneficial relationship with suppliers.
Thanks to these indications we are able to always provide the best possible support to the customer, in all phases of the relationship, to guarantee final satisfaction.
Visit the site ISO for more details.
CE mark
All our products for the industrial weighing they are CE-M type-approved or type-approved. This is a specific approval for industrial weighing, according to the European Standard EN45501 - EEC Directive 90/384, and is issued by the metric manufacturer to demonstrate that the industrial scale in question has the "EC type approval" and is therefore legally usable.
A product for the industrial weighing provided with CE-M approval, it is sold already equipped with the first periodic check mark, valid for three years, on which the serial number certifying its suitability for use is indicated.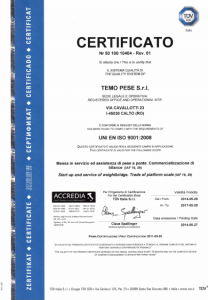 Temo Pese Assistance
Our specialized technicians are always informed about the latest technologies and periodically follow refresher courses in order to better respond to customer needs.
Our assistance network covers the entire national territory and offers complete services in the field of industrial weighing: rental of weighbridges, maintenance of electronic and mechanical scales and scales, calibration and metric testing.
Get more information in the area Services or contact us directly.