What is a weighbridge?
With the term weighbridge one indicates truck scale capable of providing extremely accurate weight readings. 
These scales must be of considerable size and very resistant, since they must support the bulk of the truck to be weighed. For this reason many weighbridges they are built with materials such as iron or concrete.
There are several models of truck scale, according to the different weighing needs: the two main types of truck scales stand out in fixed And mobile (ground wire and above ground).
 To discover the different types of truck scales, consult the dedicated article or contact us for more information. 
How is a weighbridge made?
A truck scale it is generally composed of the following elements: 
Foundations

- the structure, usually in concrete, which contains the

weighs for trucks underground. I'm afraid Pese it also offers an alternative solution, ours PREFABRICATED PIT. This innovative solution allows considerable savings both in terms of cost and time, with an assembly period of only two days for the whole weighing system.
Weighbridge

- the surface on which the truck is driven for weighing. The

weighbridges I'm afraid Pese they are built in modular panels of variable size so as to easily adapt to the customer's requests.
Load cells

- the sensors that detect the actual weight. The load cells of the

truck scales I'm afraid Pese I am in INOX with IP68 watertight protection and resistant to electrical surges.
Terminal

- the device that reads and processes the data received from the load cells. Allows the reading of the weight.

I'm afraid Pese

offers a wide range of weight management instrumentation, from tabletop instrumentation to the most complex weighing software.

Cables

- connection cables between the load cells and the terminal.
Used weighbridges: why it is convenient
In addition to the classic truck scales, Temo Pese offers a sales service of used weighbridges.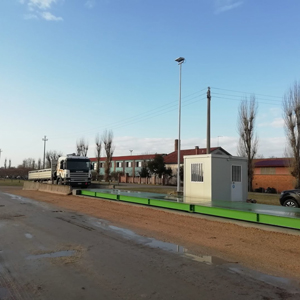 The used weighbridges I'm afraid Pese they are inspected and tested by our specialized technicians before collection and the bridges are reviewed before being put on the market. 
Everything is fine weighbridge used I'm afraid Pese it is accompanied by a new or regenerated electronic component like new.
Finally ours used weighbridges they are guaranteed for 12 months. 
Contact us for Request a quote, we guarantee availability of used weighbridges all the year! Save time and money!
With service centers throughout Italy, I'm afraid Pese performs maintenance on any truck scale static in class III, replacements of weighbridges in existing holes and system adaptations to the most recent versions.
Weighbridge rental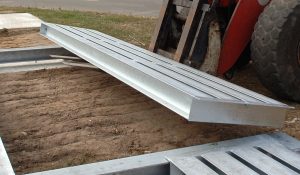 In addition to the sales service of used truck scales, we also offer a service of rental of weighbridges flush with the floor And above ground.
The rental service includes transport, assembly and initial calibration and can be formulated in the short or long term, with the option of redemption.
Contact us to know more.